"My best day as a teacher!" That was educator Kathryn Craven's exuberant reaction following a successful October 22 ham radio contact between International Space Station (ISS) crew member Serena Auñón-Chancellor, KG5TMT, and youngsters at Ashford School in Ashford, Connecticut. ARRL Headquarters provided equipment for the Amateur Radio on the International Space Station (ARISS)-sponsored event, and several ARRL Headquarters staffers were among those assisting in setting up the station, working with teachers, students, and the media, shooting photos, and offering other support.
The entire student body of the kindergarten-through-eighth grade school in northeastern Connecticut sat in rapt attention during the event, as a dozen of their classmates spoke directly to Auñón-Chancellor, who was at the helm of NA1SS on the ISS. Using ARRL's equipment, members of the Eastern Connecticut Amateur Radio Association (ECARA) set up the Earth station (KZ1M), with technical and hands-on help from W1AW Station Manager Joe Carcia, NJ1Q, who also assisted in summoning NA1SS for the approximately 10-minute pass.
ARRL members may visit the Learning Network website to register for upcoming sessions and to view previously recorded sessions. The schedule is subject to change.
How to Get Started in Amateur Radio Contesting: Anthony Luscre, K8ZT
Why do hams contest? How would I benefit from contesting? What do I need to get started in contesting? What are good contests for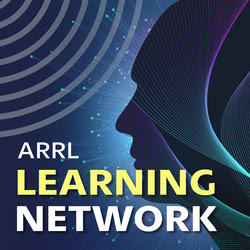 beginners? Where can I learn more? This session will answer all of these questions and more.
Tuesday, November 3, 2020, 10 AM PST/1 PM EST (1800 UTC)
Learn and Have Fun with Morse Code: Howard Bernstein, WB2UZE, and Jim Crites, W6JIM
Morse code, or "CW," is a popular ham radio operating mode. Learning CW does not have to be an arduous or lonely experience. Learn, practice, and enjoy CW with the methods used by the Long Island CW Club.
Thursday, December 17, 2020, 5 PM PST/8 PM EST (0100 UTC on Friday, December 18)